EarPeace MUSIC helps you hear more and lose less.
MUSIC Original features proven performance and comfort, while MUSIC PRO offers enhanced sound quality and a contoured, natural fit.
Watch PRO In Action
How loud
is too loud?
Anything above 85 dB has the potential to permanently damage your hearing without hearing protection.

Original vs. PRO
Sound
Comfort
EarPeace has kept you safely in the music for over a decade. Music PRO is the next evolution to enhance that experience.
Original vs. PRO
Sound
Comfort
Features
and benefits
True-to-life audio
Ergonomic, patented design is amazingly comfortable
Reusable, hypoallergenic, safe
Multiple plug sizes included
Four filter options available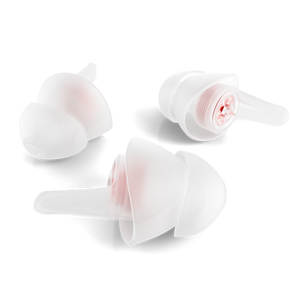 A risk free
purchase
30-day money back guarantee
1 year warranty on rips or malfunctions
Norton shopping guarantee
Secured with SSL
Level 1 PCI DSS compliant
HAVE QUESTIONS?
ALWAYS MY GO TO

I got EarPeace at SXSW in 2010 and they changed the way I go to shows. I hated stuffing foam into my ears and loosing all the detail. They keep updating the product and it just gets better. I don't go anywhere loud without EarPeace.

ANDREA, SAN DIEGO

SHOP MUSIC ORIGINAL
All I can say is BUY NOW!

EarPeace Pro is the best you can get. I can hear my friends right next to me without screaming, every word the singer is saying is clear, the bass is there, the harmonics are there, the entire soundstage is right there.

KEVIN, NYC

SHOP MUSIC PRO
A Photographer's Best Friend.

Aside from memory cards, the only thing I double check before every show is that I have my Custom Fits! I've been inches from the monitors photographing Metallica and heard every note at a comfortable level.

Rockshowpix, Providence

SHOP CUSTOM FIT
Hearing
health facts
Noise is the leading cause of hearing loss and tinnitus.
Both are permanent and can be debilitating, socially isolating
Adults with hearing loss are up to 5 times more likely to develop dementia.
HEARING 101